"Daheim [...] war vielleicht noch Österreich"
Zur Inszenierung und Demontage des Heimat-Mythos in Joseph Roths Roman Radetzkymarsch
Barbara Neymeyr

Universität Klagenfurt
Abstract
Joseph Roth's Radetzkymarsch opens up a multifaceted historical horizon: By unfolding the fictional story of the Trotta family in the crisis-ridden final period of the Habsburg era, he exemplifies cultural diagnosis through individual fates. Starting with contemporary discourse on Austria, the essay analyses the significance of the Heimat myth in Roth's Radetzkymarsch and its mediation alongside the hero myth, and the Kaiser myth. It examines the strategies the novel uses to satirically counteract these mythological configurations.
In the characters' mentality, defeatism, resignation, and anticipations of doom – extending to apocalyptic visions – are combined with regressive nostalgia for fantasies of home, and ironic scepticism. The result is a revealing panorama of heterogeneous sensitivities in a sociopsychological context. The portrait of the hero of Solferino, who once saved the emperor's life and through his portrait remains ever-present in the lives of his descendants, has a leitmotif function: Although the obsession with ancestors in the hero myth offers orientation and support to the hero's son and grandson, it also negatively affects their identity formation. However, it is not only the subject who is affected by the loss of inner stability in the final period of the Austro-Hungarian Dual Monarchy before the First World War. Without illusion, the novel radically shows symptoms of a diffusion of consciousness in the aged Emperor Franz Joseph I himself, rendering him unsuitable as a fatherly authority of reassuring sovereignty and strength – despite all the representative staging.
The essay examines the novel's tense web of motifs by analysing the strategies of ironic dismantling that emerge in the oscillation between myth-making and demythologising. Aspects of rhetorical design are also taken into account, as they significantly contribute to the aesthetics of Roth's epoch novel.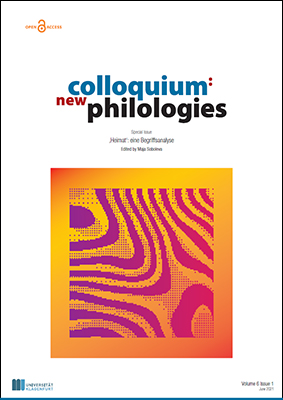 This work is licensed under a
Creative Commons Attribution 4.0 International License
.