Plurilinguismo urbano in Istria
Qualche nota sul paesaggio linguistico di Pula/Pola
Isabella Matticchio

Sveučilište u Rijeci / Università di Fiume
Abstract
The part of the Istrian peninsula belonging to the Republic of Croatia is an officially Croatian-Italian bilingual county, where bilingualism is realized both de jure and de facto. Apart from Croatian and Italian, other Romance and Slavic varieties are spoken and the linguistic situation has therefore been described as that of a double diglossia or imperfect polyglossia (Milani Kruljac 1990). Research on the linguistic landscape in officially bilingual territories, such as the Istrian Region, can be particularly useful to study the relationship of language power and prestige, the implementation of language policies and the degree of openness of different languages and cultures (see Backhaus, 2007). In this paper, we will give a brief state of the art on the study of the linguistic landscape (LL) in Croatia, especially in the officially bilingual city of Pula/Pola and give some new data on the LL of the city. Following Ben-Rafael et al. (2006)'s definition both top-down and bottom-up signs were considered in order to document the variety of the linguistic repertoire. All the signs were coded by adopting the analytical coding categories suggested by Backhaus (2007). The results shed light both on the implementation of language policies and on the degree of multilingualism in the city.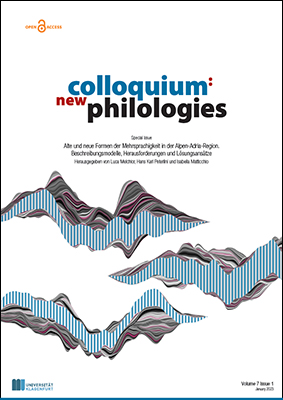 This work is licensed under a
Creative Commons Attribution 4.0 International License
.